In 1970, Ginger went to Ghana to visit his close friend, master drummer Guy Warren. Whilst there he became fascinated by the music that he heard on a Nigerian Radio Station & he determined to go there & check out the scene, undeterred by the fact that there was a war on at the time!
Ginger sent a telegram to his old friend Fela Ransom-Kuti, whom he'd first encountered playing at The Flamingo Club in London quite a few years previously, when Fela played trumpet alongside fellow Nigerian, Remi Kebaka.
Ginger immediately warmed to the vibe in Lagos and when Remi suggested to him that it would be a great idea to build a recording studio there, Ginger took up the challenge with alacrity and Batakota Studios went into construction near the airport.
Whilst this project got underway, Ginger planned to do some recording in London with Fela and his Africa 70 band. This was an idea endorsed by Mike Wells, who was at that time EMI's Managing Director in Nigeria. Ginger tells us in his book 'Hellraiser' that "an audience of 150 crammed into a large studio at Abbey Road with coloured spotlights dancing about the walls to give it the feel of a proper live gig."
The resulting album, Fela Ransome-Kuti and Africa 70 with Ginger Baker: Live was recorded in "just a few hours" & is the one that Ginger remains very proud of to this day. They went on to record material which found its way onto the 1972 Stratavarious album, which Ginger didn't think was "quite as good", though he felt that "Ariwo Baye" "really stood out".
Things were looking so good commercially with the pairing of Ginger & Fela that Robert Masters began to organise a three-week tour, beginning with an appearance on BBC tv, followed by gigs at all the big universities, & culminating in another tv show for the Independent Channel.
Sadly for all, things went disastrously wrong when due to some misunderstandings to do with flights & money, Fela sent over an acquaintance carrying a large amount of marijuana (not very well) hidden in a drum & carrying only Ginger Baker's address when arrested at Heathrow Airport.
The resultant furore caused Ginger to be busted for a small amount of grass he had for personal use at home. The knock on effect being that the press got wind of it, Ginger's eldest daughter Nettie was expelled from her private school and the planned tour was off.
In Ginger's own words (from Hellraiser) "It was a shame....because if Africa 70 had done the tour I feel sure they would have found great success & they remain far & away the best band that Fela has ever been in."
History 1970
Ginger Baker's Air Force
It was on Ginger's first visit to Steve Winwood after his extended holiday following Blind Faith's final concert date in Honolulu, that he learned of Blind Faith's demise. Ginger tells us in 'Hellraiser' that Steve mentioned wanting to reform Traffic & that Eric had decided to team up with Delaney & Bonnie. So Ginger discussed with Steve his own plans to put 'a big band' together for 'a couple of gigs, and Stevie and Chris Wood (Traffic's sax & flute player) agreed to do it.'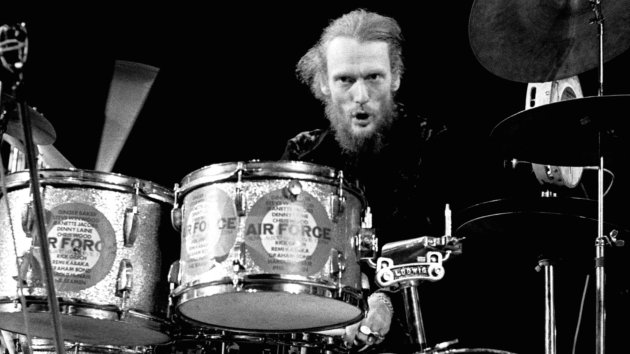 Thus in January 1970, Ginger's Baker's Air Force Mark One was born, with an impressive line-up. Former friend from the GBO 'on the road days' & Moody Blues front man Denny Laine came in on guitar & vocals, Rick Grech was on bass & violin, Harold Macnair: sax & flute (along with Chris Wood), Graham Bond on alto, the great Phil Seamen on drums, Winwood on organ & vocals, Jeanette Jacobs: vocals & Remi Kabaka: percussion.
This was a powerful & eclectic mix of some the best musicians that Ginger had known, admired & worked with over the years & it resulted in a fantastically strong (& underrated) output.
Their first gig was at Birmingham Town Hall on 12th January & such was Ginger's standing that they went on to fill London's Royal Albert Hall on the 15th. Rat Scabies (drummer with Iconic 70's punk band The Damned) remembers the impact this band had when he saw them live & that this was the first time that African music had been brought into the mainstream.
The encore of this gig was recorded & released as a single in France where it was number 1 for a few weeks. This success prompted the RSO 'office' in the guise of Robin Turner to urge Ginger to keep on with the band. However, Steve, Chris & Rick had new projects they wanted to get underway; so Ginger recruited some new personnel & Air Force Mk II (March - May ´70), took to the road with the following line up:
Ginger Baker - drums
Phil Seamen - drums
Alan White - drums, keyboard
Denny Laine - guitar, lead vocal
Graham Bond - organ, sax
Harold Mc Nair- sax, flute
Colin Gibson - sax
Rick Grech - bass
Jeanette Jacobs - vocals
Diane Stewart - vocals
Remi Kabaka - percussion
(For some of the time they also featured the singer Eleanor Barooschian)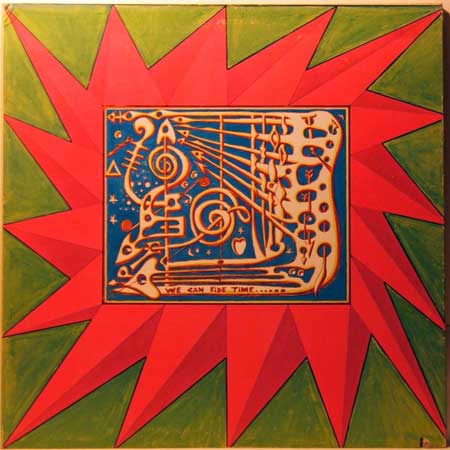 They played the following dates:
MARCH
20th Victoria Hall, HANLEY
21th University, LEEDS
28th Music Evolution`70 at Le Bourget Airport
29th Lyceum, LONDON
APRIL
19th Daily Mirror´s London-to- Mexico Car Rally, Wembley Stadium, LONDON
25th Roudhouse, LONDON
28th Greens`Playhouse, GLASGOW
29th Usher Hall, EDINBURGH
30th City Hall, NEWCASTLE
MAY
1st Caird Hall, DUNDEE
15th Joint Meeting Festival DÜSSELDORF Germany
23rd Hollywood Festival, Madeley, STAFFORDSHIRE
24th Plumpton Race Course, SUSSEX
A gig was then planned for New York's Madison Square Garden on June 20th but was cancelled & then the third & final incarnation of the band came into being consisting of the following line up:
Graham Bond - vocals, Hammond, saxes
Ken Craddok - organ, guitar, vocal
Steve Gregory - tenor sax, flute
Bud Beadle - saxes
Colin Gibson - bass
Aliki Ashman - vocals
Diane Stewart - vocals
Speedy Acquaye - congas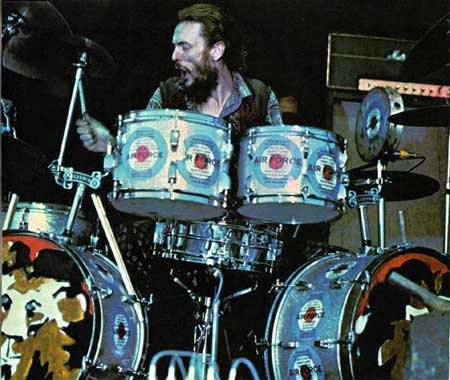 They took to the road in September... with
5th "Love & Peace Festival, FEHMARN Germany
8th Fairfield Hall, CROYDON
10th Free Trade Hall, MANCHESTER
11th City Hall, NEWCASTLE
15th Guildhall, PLYMOUTH
On 18th September Jimi Hendrix died; a blow to Ginger who had been planning to put some music together with him as well as cementing their friendship socially. Air Force continued the tour at.......
20th City Hall LEEDS
23th Town Hall BIRMINGHAM
29th Colston Hall BRISTOL
30th Victoria Hall HANLEY
& on October 24th they did the "Beatclub TV Show" BREMEN, Germany.
After which Ginger took off on his drive to Africa in his white Jensen FF, driving it over a cliff en-route, jumping out unscathed & filming the retrieval of his car with a triumphant thumbs up sign! He returned in December & Air Force played:
7th City Hall, SHEFFIELD
8th Guildhall, PORTSMOUTH
18th Stadthalle, OFFENBACH Germany
20th Messehalle, HAMBURG Germany
Then on the 21st Ginger flew his family out to a holiday in Jamaica, returning to the UK for a gig on 29th January 1971 at LEEDS Polytechnic. In February Air Force played their last gigs starting with the Drum Battle with Elvin Jones on the 1st, at the LONDON Lyceum, followed by...
4th Southsea South Parade
5th University, READING
6th University, SHEFFIELD
11th Memorial, Hall BARRY
12th Melody Rooms, NORWICH
13th University, HULL
15th Locarno, BLACKPOOL
18th Festival Hall, PAIGNTON
19th Market Hall, HAVERFORD
20th Coldfield Belfry, SUTTON
Now Africa & its music was calling Ginger & he wanted to realise his dream of setting up a recording studio in Nigeria & working with African musicians such as his new-found friend, Fela Kuti. He also found that the climate & unavailability of hard drugs there were beneficial to his health.
History 1969
Goodbye Cream goes gold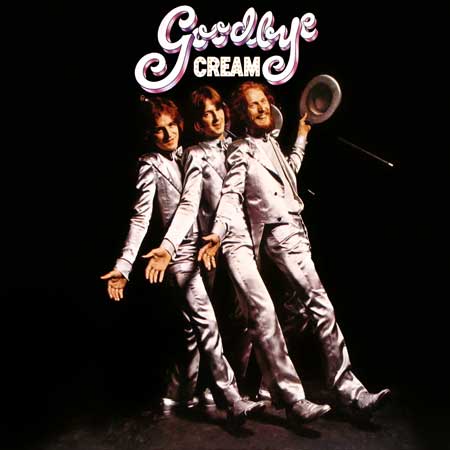 The New Year dawned with Cream fans still reeling from the band's demise. The protagonists themselves took the time to reassess their lives after their sudden and meteoric success had turned into a nightmare from which they all felt the need to escape. But in truth there had been a bond forged, perhaps like no other and that can still be felt in music that undoubtedly has stood the test of time.
The Goodbye Cream album raced up the charts also going gold. Nick Logan writing in the NME of Friday March 1st 1969 describes 'Goodbye' as 'both a farewell from, and an affirmation of, a great group and maybe the greatest – an album that will sell a million and deserves to.' The final track was 'What a Bring-down, from the enigmatic Mr Baker'.
Blind Faith's beginning
Despite this success the 'enigmatic Mr Baker says in his book Hellraiser, that he felt himself to be 'in limbo' and that 'when Cream folded' he 'got back into' his 'drug habit big time.' His friendship with Eric Clapton continued however, and they spent quite a lot of time together in London's notorious Speakeasy Club.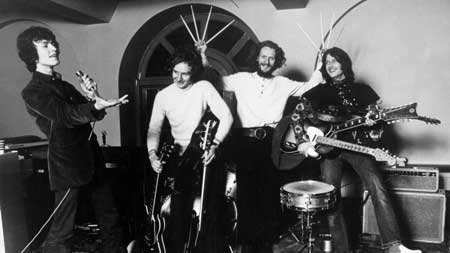 In March Ginger was also in a London studio cutting some tracks with friends George Harrison & Billy Preston & was just launching into 'That's the way God Planned it', when former Cream Roadie Mick Turner popped his head round the door to inform Ginger that he now had a son! Ginger named him Kofi after his great friend Guy Warren, 'the master drummer from Ghana.'
Not long after this, Ginger in his Jensen FF & Eric in his Ferrari raced each other along the winding English lanes to Steve Winwood's (Traffic) country cottage, set so far back from the road that it could only be reached by piling into Steve's Land Rover for a further jolting & in Ginger's words 'lunatic' drive across a ploughed field.
But it was here that with the later addition of bassist Rick Grech (of Family) that the first 'big supergroup after Cream', Blind Faith, was born.
Blind Faith records their only album
The first day they went into Olympic Studios to record, Denny Laine (formerly Moody Blues, later Airforce & Wings & Ginger's friend from the GBO days) also joined them for a phenomenal jam that unfortunately due to a 'misunderstanding' missed getting on tape, causing Ginger to get Jimmy Miller in to engineer the rest of the album. Ginger still feels that this album is 'brilliant, one of the best.'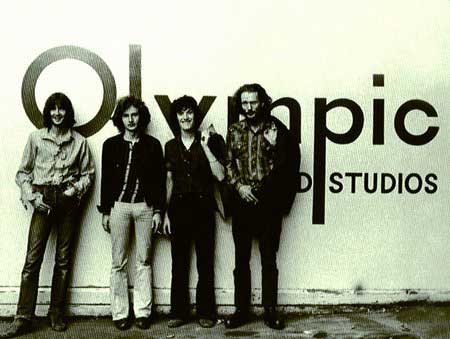 The band wanted something different for the cover that involved in Ginger's words 'a young chick holding a winged phallus'. So sleeve artist Bob Seiderman the younger sister of a girl he discovered on the London tube & fashionable jeweller Micko Milligan constructed a silvered wooden plane that he presented to Ginger after the shoot.
The concert in the park
By May 24th, Nick Logan again in the NME, was talking about the planned free concert in Hyde Park to launch the group in June as one that was 'shaping up to be pop's answer to Cup Final day.' 'Are you ready for Clapton, Winwood & Baker?' screamed one banner headline, Top Pops magazine ending that week had them on the front cover & said simply 'Welcome Blind Faith', whilst another advertised 'Blind Faith, Free Concert, Hyde Park, June 7, 3 p.m' Film of the event shows 150,000 people at this momentous occasion in a long vanished world of peace & love on a summer's day, even if Eric by his own admission wasn't that enthused!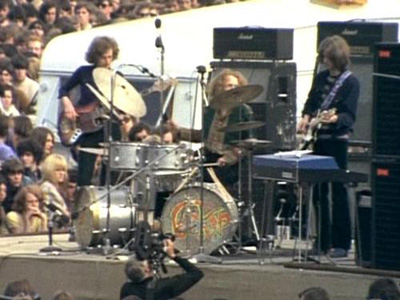 Nevertheless, as Johnny Black said in Mojo article of 1996, 'they walked on stage to a 15 minute standing ovation before they'd even played a note!' The iconic silver plane also made it to the stage & is here in sight at this very moment of writing; silent witness to a very glorious past!
Blind Faith on tour
A tour was booked by Stigwood's sinister 'office' in true Cream style and they hurtled round the the UK, Europe (Helsinki by 12th June) & the US, wowing audiences in their musical wake.....with such great songs as 'Can't Find My Home', 'Do What You Like', 'Sea of Joy', 'Had to Cry Today' & Ginger's favourite song of Eric's, 'Presence of the Lord.'
The album cover caused some consternation amongst the more conservative elements in the States & in certain places was replaced by a simple cover shot of the band.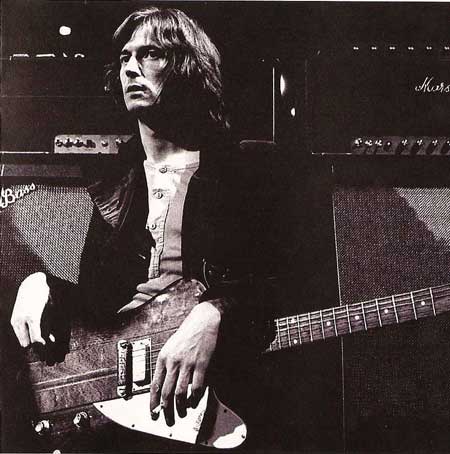 Posters advertising the concerts in the States advertise them playing Olympia Stadium, Grand River with Delaney & Bonnie & The Taste, & Bridgeport & The Oakland Coliseum with Free. The Mid-West Rock Festival at The State Fair Park, Milwaukee of July 25/6/7 1969, had (amongst others that in his book Hellraiser, Ginger refers to as 'strange bands'!) Led Zeppelin on the bill Friday, Blind Faith on the Saturday & Jeff Beck, Jethro Tull, Johnny Winter & Joe Cocker on the Sunday! By the 8th August they were at the Seattle Centre Coliseum.....
However, in his book Ginger also recounts alarming happenings on this tour & hostility from the police in Phoenix, Detroit, 'the Midwest somewhere' & at Madison Square Garden (12th July), where Ginger 'boshed a copper on the head' for attacking a kid who ran for a broken drumstick, thus causing 'a riot' to break out!
The last date of the tour was in Honolulu & Ginger's heroin habit had spiralled due to more pressure & the fact that he only ever seemed to see Eric on stage. Indeed when Eric returned to England & was asked about the band's future he said, 'I am inclined to say that was The Blind Faith tour'. The writing had in fact been on the wall from the beginning though it took a while for Ginger to realise that 'Eric didn't really want me in the band' & in fact wanted to work with Winwood....whereas Ginger maintains that it was because of HIS relationship with Steve that he WAS in it!
Ginger spent the latter part of the year holidaying in Hawaii & then Jamaica where he had his Jensen FF car flown out to him, got into scuba diving & sorted his habit out by enjoying the grass! He returned to England with his family at a leisurely pace on a Dutch cruise liner & once home went over to visit Steve Winwood, which was when he 'discovered that Blind Faith was no more.' So Ginger asked Steve if he & Chris Wood (Traffic's sax & flute player) fancied getting a big band together for a couple of gigs & they agreed.............
History 1968
Cream takes the world by storm!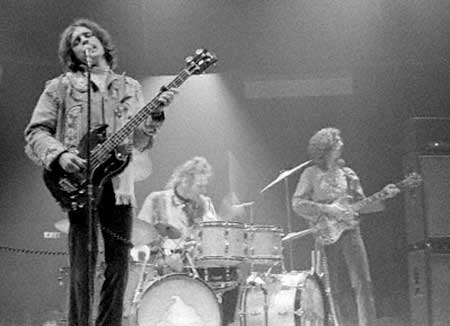 1968 continued in the same frenetic way as the previous two years since Cream had started out. January 5th saw them play The Industrial Club in Norwich, on the 9th they recorded the Top Gear show for BBC Radio One & the next night they played London's Revolution Club, which was filmed for French TV. There was no let up as they hopped over to Amsterdam, back to Redcar in the North of England, down to Brighton, up to Leeds University, down to Twickenham, back up to Nottingham & down again to UCL in London before flying off to Denmark for four days where they were filmed for a movie (Det Var En Lordag Aften). By the 10th February they were back in Manchester, UK, before beginning their next massive US tour in Santa Monica on the 23rd.
Ginger was already settled in his US hotel room on 20th February & into the recording of The Wheels of Fire album, when his mother phoned to tell him of the home-birth of his baby daughter Leda. 'I've got a sink full of dirty socks!' was Ginger's reply to the news! Producer Felix Papalardi wanted it to be a double album & Atlantic weren't keen, but Cream themselves also thought it a good idea. Felix said, 'the music is never discussed, it just happens.' Whatever 'happened', it was the first album ever to go double-platinum after its release. Melody Maker's review of it on August 10th, also rates Toad as 'the best solo Ginger has ever recorded'.
An article written much later by Rob Lewis cites 'Cream's sustained success' for the fact that this tour was 'extended to last until June of 1968', allowing only one break which 'tested the interpersonal relationships.' Ginger felt that 'the constant gigging meant our performances weren't always that good' & the size & volume of the amps caused constant pain with his ears & led to many altercations with Jack Bruce about 'turning up.' Both Ginger & Eric have been quoted as saying that however badly they played they would get a standing ovation & this seemed to trouble them.
Cream smash box-office records
Yet for fans this was the band they wanted to see. Cream had a magic rarely experienced before. Kenny Bardoll, bass player of The Corporation, summed it up like this, 'We were just flabbergasted by the whole thing...you know,...here they are, The Cream!' 14 & 15 year old boys had the experiences of a lifetime & remember an awe inspiring Milwaukee evening when Eric's amps blew!
Local Journalist Michael H. Drew reported that 'unless someone learns to harness the atom instrumentally, it is likely that the Cream have reached the musical ultimate – in volume, style & sound.' And in success... because by January 1969, The Robert Stigwood Organisation sent a letter to Cream's fans stating that on this & their final tour later in the year, they 'smashed all box office records currently held by The Beatles'!!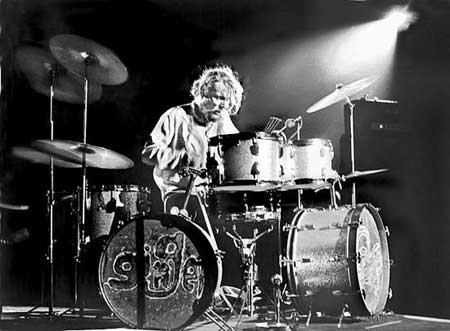 Cream want to disband
Ginger's first wife Liz remembers driving to the gig at The Convention Centre, Anaheim CA on 17 th May, & the five-lane freeway was jammed with traffic. 'Where are all these people going?' she asked...'to our gig' Ginger replied! A fan from the Milwaukee gigs recalls Ginger getting 5 standing ovations for his solos on the first night & 11 on the second... & this scenario was repeated everywhere they played. Sadly no one stepped in to give the band a break & try at least to defuse the internal disputes. But by now the writing was on the wall & Ginger & Eric told Stigwood they wanted to disband; though Ginger remembers that he (Stigwood) 'didn't believe us.'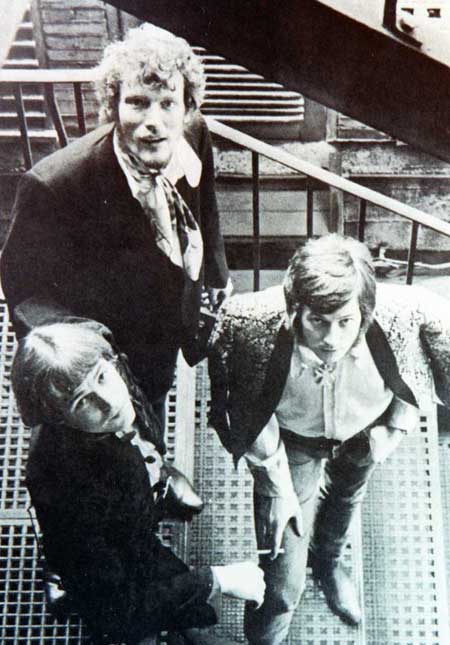 Goodbye Cream
Then came the fateful Rolling Stone article that upset Eric by criticising his solos & asking presumptuously 'Will Cream stand the test of Time?' Well, we know the answer to that one! So the much heralded 'fourth album' planned to be recorded in the states in September, again with Papalardi, became, 'Goodbye Cream.' Ginger remembers a 'too little, too late' scenario where he finally felt all members were equally represented writing wise on the album. Cream returned to the UK mid-June & the July 13th 1968 issue of Melody Maker carried the headline that would devastate many, 'Cream Split Up', with a lead article on page 11 by Chris Welch, in which Eric stated tellingly that they 'wanted a holiday.'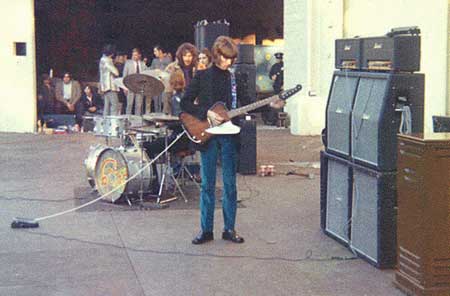 So the album was recorded & after the cover shots in the UK, Ginger's family would find silver stars all over the house for years to follow! On October 4th Cream left for their 'Goodbye' tour of the states & in England the October 5th issue of The NME featured them on the cover. On November 26th 1968, Cream played their farewell performance at The Albert Hall....a gig filmed for posterity & which none of them rated musically. The protagonists were tired & glad to be free, never realising that so great was their influence, talent & inspiration that 37 years later they would grace that stage again to a standing ovation that all three were happy to take.......Aurevoir Cream.........?

History 1967
Cream's UK tour
The New Year kicked off with Cream undertaking a gruelling UK tour; first stop, The Ricky Tick Club in Windsor on the 7th January. On the same day The Melody Maker featured a double page article by Chris Welch, a 'Focus on the group they said would never make it'. The first page was entitled 'Pop Think in with Ginger Baker;' in which Ginger answered questions on the subjects of Modern Art (specifically talking about the fibre-glass sculpture pictured in his auto-biography 'Hellraiser') Cream, Graham Bond, Drummers, Health, Drum Solo's, Beards, Punch-ups, Irish Tempers, Keith Moon, Cars, Hang-ups, Fear, Love, N.S.U & The Small Faces!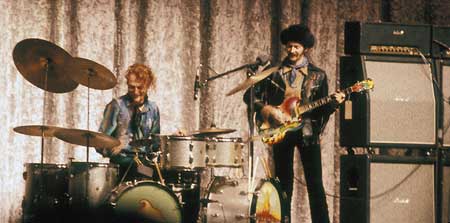 The second related article asked Eric how he felt when Cream's detractors said they wouldn't last because of 'clashing temperaments'? "It's true we do have rows," replied Eric "But they are followed by really big embraces... afterwards it's almost like falling in love again."
Cream plays on BBC's Top of the Pops
On January 11th they mimed their new (January released) single 'I Feel Free' for BBC TV's 'Top of the Pops', when according to Jack Bruce, 'Ginger got very upset about the rubber cymbals'. On January 21st, Disc Magazine had an article on page 10, entitled 'Crowds like Cream'; in a not wholly successful attempt to understand the band's phenomenal pulling power, the journalist describes "the floor around the stage" being "a mass of heaving bodies, girls jump on boys backs, boys edge forwards craning their necks." "What's the great attraction?" "They sing, they play, that is enough."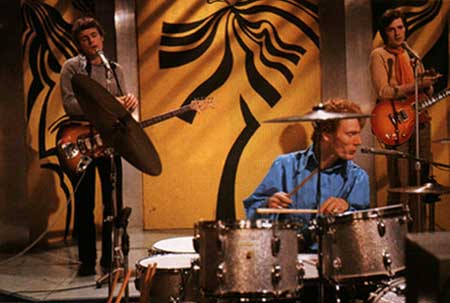 Cream plays the Murray K Show
After three months of virtually non-stop dates in the UK, (the set-list including 'Sweet Wine', N.S.U. & 'Spoonful' with new songs being added as they got written), Cream were whisked off to New York, where between March 25th & April 2nd they guested on the Murray the K show, a stellar line-up, with amongst others The Who, Wilson Pickett & Simon & Garfunkel, playing one to two songs a day, one of which was, 'I'm So Glad.' Such were the high jinks on this occasion that Ginger remembers Murray finding him lying under the table with a bottle of Bacardi & saying 'How the hell is he going to be able to play?' But he did! Whilst there they recorded 'Strange Brew' in Atlantic Studios (they returned in the second week of May to finish The Disraeli Gears album).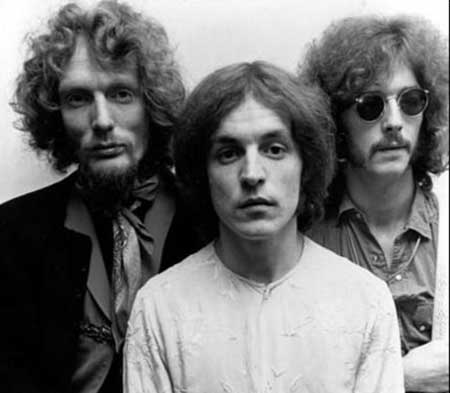 Back on tour in the UK
Then quick as a flash they were back touring the UK again, such as The Daily Express record Star Show at Wembley's Empire Pool with The Troggs, The Kinks & Paul Jones; The Brighton Arts Festival, with The Who and on May 29th, Barbeque 67, Tulip Bulb Auction Hall, Spalding, with Pink Floyd, The Move, Geno Washington & The Jimi Hendrix Experience. On June 15th they recorded for the BBC TV programme Top of the Pops at Lime Grove and on the 22nd they appeared on the trendy TV show 'Dee Time' hosted by Simon Dee. On the 24th of the same month, Record Mirror's page 3 led with Norman Joplin's piece, 'Ginger tells of Cream's strange American trip'! In which the recording 'Strange Brew' is at that time labelled as 'Witches Brew' and the release of the recently recorded, ground-breaking Disraeli Gears LP, 'all of it recorded in the states' is tipped to be out in the UK 'reasonably soon'.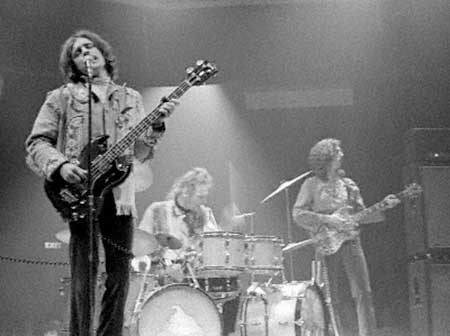 Cream blow US audiences away!
On July 8th Ginger & Eric had their famous race down Ben Nevis in Scotland whilst on a photo shoot for the album. Sometime between July 15th & August 4th Ginger found time to take his newly pregnant wife Liz & daughter Nettie on a much needed holiday to Mexico City & Acapulco. But by the 4th Cream were up in Perth, Scotland, followed by a string of northern dates, before the Windsor Jazz Festival on the 13th. On 17th August Cream played at The Speakeasy in London, where they were introduced by Frank Zappa and just five days later they were wowing audiences at The Fillmore on the West Coast of America. In a brief piece in the Melody Maker of 26th August, Nick Jones predicted 'there can be no doubt that they're going to blow the lovers of California out of their heads'!
Soon after, journalist George Almond wrote a glowing acid-fuelled piece entitled 'Freaking out at The Fillmore' in which he described 'the first number' exploding 'into the auditorium' as though it were 'a musical megaton bomb' & 'for nearly an hour the message of 1967 roared out, everyone interpreting it in their own way.' A wonderful evocation not only of the unique power of Cream's music but also the twin themes of fear of nuclear destruction & the desire to rebuild the world anew....Cream..iconic & integral to the popular culture that shaped the ideology of the day.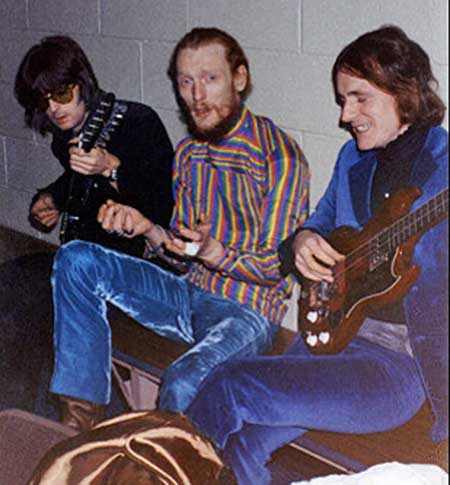 In fact, dear George felt moved to say that the audience on that particular night had 'felt some message from a realm beyond normal understanding.' Cream had come to America!
They executed a lightning tour from coast to coast culminating at Detroit's Grande Ballroom on October 15th.
The set list for this night was:
Tales of brave Ulysses

N.S.U

Sitting on Top of the World


Sweet Wine

Rolling & Tumblin'

Spoonful

Steppin' Out

Train Time

Toad

I'm So Glad
BBC Radio recordings and more US gigs
Then by the 24th they were recording in London for BBC Radio One with John Peel, followed by more UK dates; then off to Denmark & Sweden between November 10-18th & back in Newcastle-upon-Tyne (UK) by the 23rd! On the 18th, record Mirror featured an article with Eric Clapton about the Disraeli Gears album, in which LP sleeve photographer Robert Whitaker gets mis-named Roger Whittaker (a very conservative UK singer!). On the 26th they recorded a show for BBC TV at London's Lime grove Studios & this is when Ginger od'd on heroin; a story he tells in 'Hellraiser'.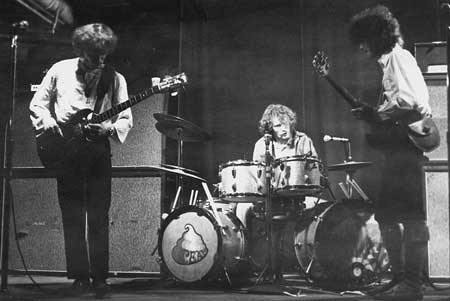 The Melody Maker of December 2nd reported 'Ginger Baker Collapses – Doctors Suspect Ulcer.' This caused Stigwood to make a few cancellations, but nevertheless, Ginger was back recording with Cream for Radio One again on December 3rd, followed by more UK dates, & ended up playing a debs ball in Chicago USA on 20th December, his daughter Nettie's 6th Birthday. Cream's last date of 1967 was on the 23rd December back at The Grande Ballroom in Detroit, after which they rushed home to spend Christmas with their families, before it started all over again in 1968.
History 1966
The Graham Bond Organization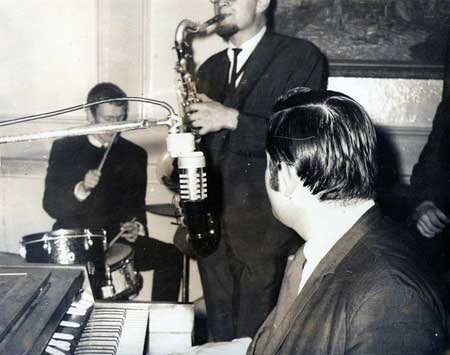 The year began with a Graham Bond Organisation (line up: Graham Bond: Organ, Alto Sax, Vocals etc. Mike Falana: trumpet, Dick Heckstall-Smith (Rillo) Tenor Sax, Ginger Baker: Drums) gig in High Wycombe. This heralded a meeting with soon to be Cream Roadie (& unwitting inventor of the name for Cream's '67 album Disraeli Gears Album) Mick Turner. Mick helped get the Bedford 'bandwagon' out of the mud and his cheerful demeanour coupled with the loss of their last roadie caused Ginger to hire him on the spot.... as long as the ex-con promised to 'keep out of trouble'!
The end of the Mellotron - and the band?
The next gig in Southend saw the 'sorry end' of Graham Bond's famous Mellotron. An accident sustained by the Bedford recently on the old A5 road had obviously 'wrought some damage to this delicate instrument' Ginger tells us in his autobiography 'Hellraiser', causing it to 'vibrate strangely' before dying and gushing its insides 'all over the stage'! Then the rest of the band discovered that Graham hadn't been given the instrument 'for free' as he had hitherto maintained & they now owed Mellotron 'several thousand pounds.'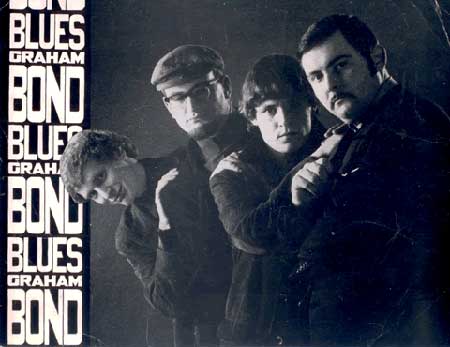 These two events can with hindsight be seen as the writing on the wall for the GBO. Nevertheless, the band were as popular as ever & continued to gig around the country for the first half of the year playing their usual crowd thrilling set list culled from the previous year's 'Sound of 65' album, which included 'Wade in the Water', 'Got my Mojo Working' and one later classic introduced to Cream by Ginger, 'Train Time.'
Eric Clapton
An eventful gig in Hammersmith, London (in which Mick the new roadie sorted out some heavies who 'mysteriously' attacked Graham Bond from behind the stage), was followed by 'a big university gig' at which the GBO shared billing with The Yardbirds & The Long John Baldry Band. This was when Rod Stewart was also with Baldry & he and Ginger were hanging out having a smoke when a young guy came along & said, 'I know you, Baker! You ain't really a hard nut at all.' This is how Ginger Baker began his friendship with Eric Clapton.
But it wasn't until the GBO played The Flamingo in London sometime later & Eric came along with his guitar & asked to sit in, that Ginger suddenly realised, 'Shit! This guy could really play.' At the same time, the problems within the GBO intensified as Ginger felt that he & Graham were now pulling in opposite directions and their friendship became strained. Meanwhile their manager Robert Stigwood asked Ginger if he could utilise a track written by Ginger and unused on the very latest 'There's a Bond Between Us' GBO album, called 'Walz for a Pig'.
Stigwood gave it to The Who for a B-side & Ginger made £1,350..a fortune to him at that time.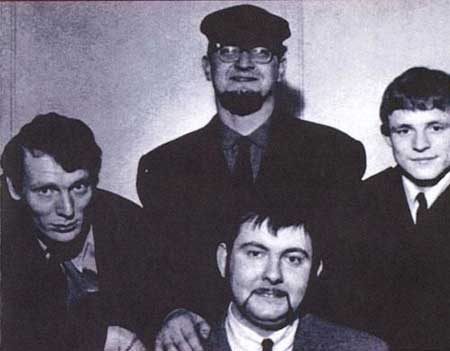 Ginger's idea for the new band
Ginger went out & got a driving license & a new car with the money. An article written in Spring that year by John Emery cites Ginger (then still with GBO) as wanting 'two bass drums', for 'the sound' and not 'the look'. This again shows Ginger's then fairly close affiliation with Keith Moon as he was with Moonie at a Duke Ellington gig when they both got this idea. It also puts the double-bass drum concept into the pre-Cream days. Now he had an idea for a new 'sound', Ginger decided the time was right to form a new band to make it happen & he knew that he wanted Eric Clapton to be a part of it.
Eric had now left The Yardbirds & was playing with John Mayall's Bluebreakers. Ginger rang their manager John Gunnell & went down with his wife Liz to see them play in Oxford. Ginger sat in at this gig & the place erupted. Afterwards he asked Eric if he fancied getting a band together & Eric agreed, adding that he thought Jack Bruce would be great for bass, having no idea of the previous rancour that existed between Jack & Ginger.
The birth of Cream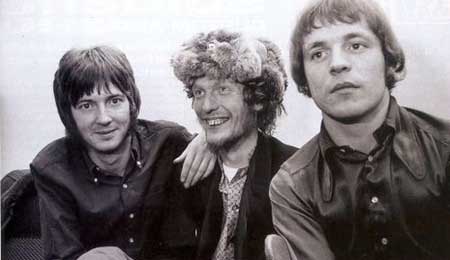 Over a cup of tea at his mother-in-law's flat, Jack agreed to let 'bygones be bygones' & the three of them got together for the first rehearsal in Ginger's ground floor maisonette at 154 Braemar Avenue, Neasden in North West London, just a stone's throw from Wembley Stadium where English football history was very soon to be made. It was an auspicious summer. The three musicians found that playing together was instant 'magic' & so good was the sound that kids from miles around could be seen dancing out in the fields that bordered The Welsh Harp Reservoir nearby. "Yeah, man we're the Cream!" said Eric. Ginger's last gig with The GBO was up in Bradford & he managed to write his new Rover 2000 off in an accident on the way back. It was the end of an era & the beginning of a new age.
The first Cream rehearsal proper, happened at St Ann's Town Hall, Brondesbury, North London, with Liz, the journalist Chris Welch & a bemused Robert Stigwood (who had no idea of the phenomenon that was about to be unleashed upon the world) in attendance. In no time the story was leaked to The Melody Maker under the heading 'Eric, Jack & Ginger Team Up' and as neither Manfred Mann (Jack Bruce), The Bluesbreakers (Clapton) or The GBO (Baker) were aware of this new development, this caused some immediate friction within the embryo unit.
Nevertheless, The Melody Maker of Cup Final Day, 30th July 1966, reports that 'Britain's most exciting new group' were frantically rehearsing from 18th July onwards in a 'bizarre' church hall setting of 'Brownies & Caretakers' to be ready for 'the sixth national jazz & blues festival at Winsdor' on the 31st.
Apparently fans were already 'excitedly looking forward to their first chance to hear the fiery three' and Eric Clapton said he was 'nervous, very nervous'. But in fact their debut gig was actually at Manchester's Twisted Wheel Club...some say on the 29th & other's on Cup Final Day itself & this writer can testify that on that day the shouts of the England fans could be heard in Ginger's back garden in Neasden!
On the 31st July at Windsor the Heaven's opened, but no one cared about the mud & rain. England had triumphed and now was about to do so again when as The Melody Maker (of August 6th) reported, the moment came that 'thousands had been waiting for' & Ginger, Jack & Eric launched into 'Spoonful'. This was followed by 'Sleepy Time' & 'Train Time' with Eric's 'incredible guitar' causing the audience to 'scream for more even when he was playing more' & then Ginger's solo 'The Toad' apparently 'sent the crowd potty.' They'd just witnessed the birth of Cream!
Cream takes over from GBO
From that moment on Cream took over the gigs that had been previously booked for the GBO. On 1st August they played the famous Cooks Ferry Inn, Edmonton, North East London, & on the 2nd they were at West Hampstead's legendary Klooks Kleek. Ginger got his booking agent to ask for an extra £5 per gig, bumping the fee up to £45 per night & Cream were off on a whirlwind tour, taking the UK by storm.
Friction did continue to be a part of their 'electric' dynamic however & before long Stigwood had them in the studio to record their first single 'Wrapping Paper'. Ginger had invited his friend the beat poet Pete Brown along to help with the writing, but Pete disappeared with Jack & wrote this track that Ginger felt strongly 'was the most awful song and had absolutely nothing to do with what Cream was doing.'
Immediately Ginger felt that the bands status as a true co-operative unit was being compromised by the song writing credits going to Bruce & Brown, with no mention of himself & Clapton. However, the single did ok & Nick Jones in The Melody Maker of November 5th crows..'Well they finally made it. The much publicised, talked-about, raved about, and listened to group – the Cream – are in the chart.'
Fresh Cream
The fact that the music was so good enabled them to put all differences aside & go into a studio in South Molton Street in London to record their first album Fresh Cream. Ginger remembers in his book 'Hellraiser' that overall 'they were happy times' & an occasion where they 'tipped a box of cornflakes over Stigwood's head, then Eric got hold of some scissors & cut his tie off'!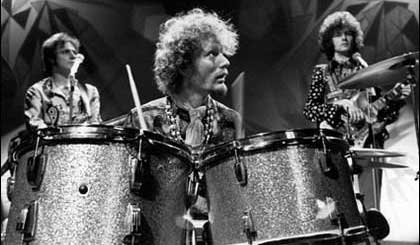 They continued their meteoric success on endless gigs around the UK for the rest of the year & such was their earning capacity by now that Stigwood even asked Ginger for a loan of £40,000 Cream money to avert his organisation's 'imminent' financial 'disaster'. This Ginger did without the other 2 band members even knowing & the money was soon reimbursed. Cream played their last gig of 1966 on December 30th at the Double Giant Freak-Out Ball, The Roundhouse, Chalk Farm in London & Stigwood now had his eye firmly on the USA.